Get a Logo that Speaks About you
We are a leading
Logo Design

Company

A logo tells about your brand: market, focus, uniqueness, etc. Your prospect customers will come to you if you have an outstanding logo design. Dream Steps stand firmly to deliver unique and customized logo for the business around the globe. Today, we have worked for more than 500 clients. We use latest technologies to design an impressive and effective logo. Either you want a company logo or corporate logo design; we do the best job for you. Before our designers start working on your project, our team communicates with you to understand your requirement precisely. Dream Steps is the best business logo design company in India that will take your business to new heights by designing the creative logo for you at a cost-effective price.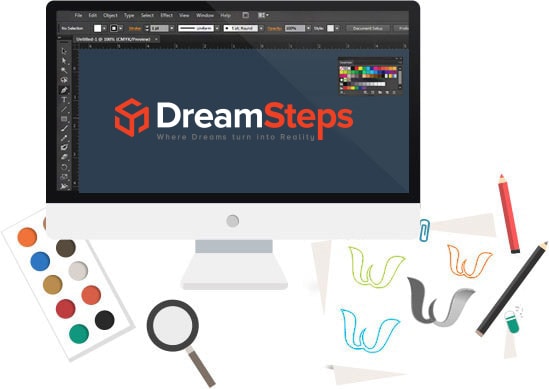 We design visually compelling logos with a great concept behind it.
for future
Dream Steps is a professional logo design company in India. We create 100% custom logos for online businesses and brands at the affordable cost. If you're looking for professional logo design services, then Dream Steps talented logo designers can help you a lot to get a right logo for your personal and business brand that simply and clearly present your brand Identity. A unique logo also makes you be noticed by your customers and actually can grow your business. We design a modern logo that communicates your brand visibility with your customers and fits right for your business.
Take advantage of our 12+ years industry experience. Contact our experts.
View Portfolio
Logo Design
Process
Know Your
Requirements

At the first stage, we get in touch with you to know your requirements. We ask you about business and what you do, and how you do. We design a fresh and unique logo based on your requirements.

Research about
Your Industry

We do an extensive research work that focuses on your industry, business theme, targeting customers, and competitors. Thus, we design a logo that would establish your unique presence in the market.

Brainstorming, Sketch,
& Execution

We sit together with our team for brainstorming and conceptualize our ideas into a blueprint or sketch. Our designers sketch 2-3 initial logos, and after consulting with our clients, we execute it digitally.

Iteration &
Finalization

Once our team finishes the logo design, we send it to clients for the final approval. We take your valuable inputs to design the final masterpiece and then again we sent the final logo.
Our Successful
Logo Projects
Our logo designers ensure that a logo should be able to develop in a way that it tells about the company's values, services, and commitment. We made it possible, take a look at creative logo designs.
"We are the Top Web Design and Development Company across the Globe."
Start Project